Li+Pro Mini.
Professional Cord/Cordless Tr immer.


DIAMOND BLADE included.
Cutting width 32 mm/cutting length 0.4 mm

Foldable blade set - no tools required.
Very easy to clean.

Super light. Only 120g!

Powerful battery for 75 minutes operating time
with quick-charge function: It is fully charged in just 45 minutes.

Seamless housing for optimal comfort.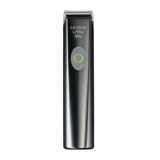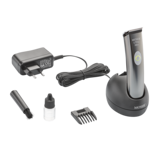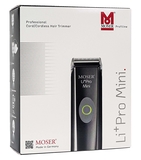 STAR BLADE II:
Professional, high-grade steel contour blade set "Made in
Germany". Powerful ultra close 0.4 mm cutting. Closed back of the blade set optimizes hair guidance and eases cleaning.

QUICK CHANGE:
Easy removable blade set allows easy cleaning and quick change to optional available Carving and Designer blade sets. For fine lines and creative styling.

PROFESSIONAL:
Cord/cordless operation, 45 minutes super quick charge, highly efficient and durable Li-lon-batteries without memory effect. Up to 75 minutes battery operating time.



INTELLIGENT:
Push button with integrated charge control.

CONSTANT POWER:
Chip-controlled motor for constant cutting-power.
Technical data
Article number

1584-0050

Type

Professional cord/cordless hair trimmer

Operating voltage

100-240 V, 50/60 Hz

Operation time

up to 75 min

Charging time

ca. 45 min quick charge

Length

138

mm

Width

32

mm

Depth

34

mm

Weight

ca. 120 g
Blade set

Star Blade

Top blade width

32

mm

Cutting length

0.4 mm

Type of operation

cord/cordless (tow way), Li-Ion

Drive

DC-Motor with sound proofing. Approx. 5500 RPM

Speed control

Constant Speed