Li+Pro.
Professional Cord/Cordless Hair Clipper



MAGIC BLADE II included.
Cutting width 46 mm/cutting length 0.7 – 3 mm

Foldable blade set - no tools required.
Very easy to clean.

Processor-controlled motor for constant cutting power.

45-minute quick-charge function, 75 minutes of operation.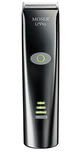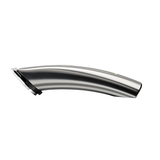 MAGIC BLADE II:
New, high-quality professional stainless steel blade set "Made in Germany" featuring integrated cutting-length adjustment from 0.7 to 3 mm. Optimizes hair guidance and eases cleaning.

QUICK CHANGE:
Easy removable blade set allows quick change to optional available All-in-One Blade.
PROFESSIONAL:
Cord/cordless operation, 45 minutes super quick charge, highly efficient and durable Li-lon-batteries without memory effect. Up to 75 minutes battery operating time.

INTELLIGENT:
Multi-level battery capacity display and indicator light for blade oiling. Push button with integrated charge control.

CONSTANT SPEED:
Chip-controlled motor for constant cutting-power.
ERGONOMIC:
Super light and quiet. Only 265 g. One piece tube housing for extended comfort.

ACCESSORIES:
6 slide-on attachment combs 3, 6, 9, 12, 18, 25 mm, charging stand with cable storage, energy-efficient plug-in transformer, cleaning brush, clipper oil.
Step-by-step tutorial
Watch it here
Blade care
How to maintain the clipper
Technical data
Variants

#b89e8a

Rosé-Gold |

Art. No.: 1884-0055

|

EAN: 4015110019831

#807e7b

Silber |

Art. No.: 1884-0050

|

EAN: 4015110007289
Article number

1884-0050

Type

Professional cord/cordless hair clipper

Operating voltage

100-240 V, 50/60 Hz via plug-in transformer

Operation time

up to 75 min

Charging time

ca. 45 min quick charge

Length

180

mm

Width

47

mm

Depth

42

mm

Weight

ca. 265 g
Blade set

Magic Blade

Quick-change blade set

Yes

Top blade width

46

mm

Cutting length

0.7 - 3 mm

Type of operation

cord/cordless (tow way), Li-Ion

Drive

DC-Motor with sound proofing. Approx. 5200 RPM

Speed control

Constant Speed

Information system

LED