Genio Plus
Professional Hair Clipper with Interchangeable Battery Pack.


MAGIC BLADE included.
Cutting width 46 mm/cutting length 0.7 – 3 mm

Foldable blade set - no tools required.
Very easy to clean.

2 XL power battery packs included.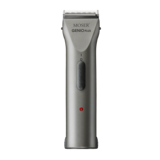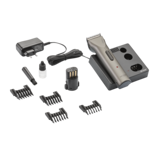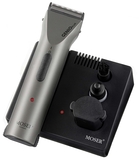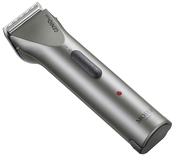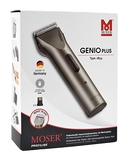 MAGIC BLADE:
Professional stainless steel blade set featuring integrated cutting-length adjustment 0.7 – 3 mm. Powerful cutting thanks to high-precision grinding technology "Made in Germany".

QUICK CHANGE:
Easy removable blade set allows cleaning and quick change to optional available Texturizing or Razor blade sets.

XL-POWER:
Constantly ready to use thanks to interchangeable batteries. 2 XL-Power battery packs included!

CLEVER:
Battery charger and clipper stand in one featuring LED charge indicator. LED indicator for battery-charge level to show when it's time to change batteries.
INCLUSIVE:
2 XL-Power battery packs, 4 slide-on attachment combs 3, 6, 9, 12 mm, battery charger and clipper stand, cleaning brush, oil.
Blade Care:
A well-oiled motor simply runs better. These instructions will show you how to maintain and clean your shaving head.
Technical data
Article number

1854-0078

Type

Professional hair clipper with Interchangeable battery pack

Operating voltage

100-240 V, 50/60 Hz

Operation time

up to 100 min

Charging time

ca. 75 min quick charge

Length

170

mm

Width

50

mm

Depth

50

mm

Weight

ca. 270 g
Blade set

Magic Blade

Top blade width

46

mm

Cutting length

0.7 - 3 mm

Type of operation

Battery NiMh

Drive

DC-Motor with sound proofing. Approx. 5000 RPM