Class50
Professional Motor Hair Clipper.


STAR BLADE included.
Cutting width 49 mm/cutting length 1 mm

Foldable blade set - no tools required.
Very easy to clean.

Super light. Only 360g!

Super quiet.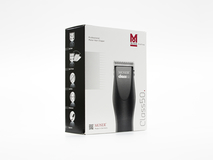 STAR BLADE:
Precision-ground, high-grade steel full metal blade set. Proven quality for extra long life "Made in Germany".

QUICK CHANGE:
Easy removable blade set allows easy cleaning and quick change thanks to quick change button.
POWERFUL:
Extremely powerful but palpably light and quiet.

DURABLE:
A low-maintenance and durable appliance developed by experts.
ERGONOMIC:
A proven ergonomic shape, balanced weight distribution and slipresistant grip element ensure a secure hold.

INCLUSIVE:
1 mm blade set STAR BLADE, cleaning brush, oil.
Product video
Watch the product video here
Technical data
Article number

1250-0060

Type

Professional motor hair clipper

Operating voltage

Max. 24 W / 100-240V, 50/60 Hz

Cable

3 m professional cord

Length

196

mm

Width

54

mm

Depth

48

mm

Weight

ca. 360 g (without bladeset and cord)
Blade set

Star Blade

Top blade width

49

mm

Cutting length

1 mm

Type of operation

Mains / Profi- / continuous operation

Drive

Eccerntric, approx. 3300 RPM

Speed control

Constant Speed